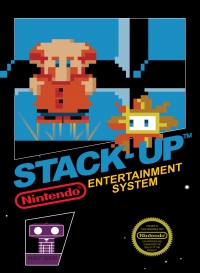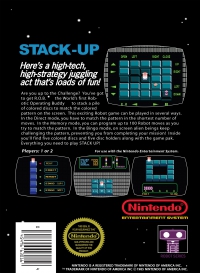 Go back to the time of Nintendo's R.O.B. with the Stack Up (Nintendo, 1985) game. This Nintendo game is designed to work with the Robotic Operating Buddy and is one of the two games in the Robot Series (Gyromite is the other). In this Robot series game, the player has to command R.O.B. to arrange colored blocks in random patterns and once this is done, you proceed to the next phase of gameplay. Professor Hector, another character in this Nintendo game, either works with R.O.B. or competes against Spike, Flipper, or Professor Vector to take control of him. This Robot series game features many levels and modes like Bingo (1P), Bingo (2P), Test, Direct, and Memory modes, giving you variety in gameplay. Enjoy punching buttons and controlling R.O.B. in the Stack Up (Nintendo, 1985).
Use the Robotic Operating Buddy (R.O.B.) to manipulate blocks


Includes three block sorting games


Earn high scores by being quick and efficient


| | |
| --- | --- |
| Released | Oct 18, 1985 |
| Developer | |
| Publisher | Nintendo |
| Players | 1 |
| Co-Op | No |
Game Rarity
Average Price (USD)
Rarity
Popularity
$206.98
980
457
Game Availability
Box Description
STACK-UP
Here's a high-tech,
high-strategyjugg/ing
act that's loads of fun!
Are you up to the Challenge? You've got
the World's first Rob-
to get R.O.B.
otic Operating Buddy to stack a pile
of colored discs to match the colored
RIGHT CLOSE
OPEN
RIGHT
pattern on the screen. This exciting Robot game can be played in several ways.
In the Direct mode, you have to match the pattern in the shortest number of
moves. In the Memory mode, you can program up to 100 Robot moves as you
try to match the pattern. In the Bingo mode, on screen alien beings keep
challenging the pattern, preventing you from completing your mission! Inside
you'll find five colored discs and five disc holders along with the game pak.
Everything you need to play STACK UP!
Players: 7 or 2
TES T
For use with the Nintendo Entertainment System.
POINT 0000
STEP OOO
p AR
019
BONUS 050
oaäQ3
FAST
SLOW
THIS SFN IS
YOUR THAT
Nintendo@
HAS APPROVED AND
GUARANTEED THE
QUALITY OF THIS
PRODUCT.
NinTendo@
enTERTR1nmenT svsTern
ROBOT SERIES
NINTENDO IS A REGISTERED TRADEMARK OF NINTENDO OF AMERICA INC.
TRADEMARK OF NINTENDO OF AMERICA INC 01985 NINTENDO OF AMERICA INC.

- ReaderBot (does his best...)