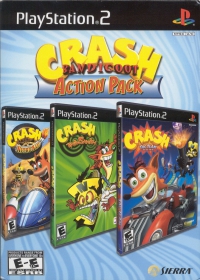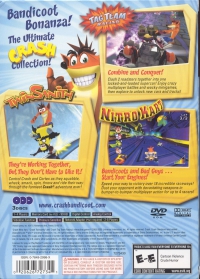 The Crash Bandicoot Action Pack bundles three previous releases for PS2: Crash Nitro Kart, Crash Twinsanity, and Crash Tag Team Racing.

Inspired by 1999's hit CTR (Crash Team Racing) for the original PlayStation, Crash Nitro Kart (2003) offers four-player racing action in a variety of game modes. Players compete in cup challenges, time trials, and an assortment of multiplayer battles. While speeding along the predominately outdoor environments, players can run over such items as wumpa fruit to increase speed, ramps to leap over chasms, and crates to acquire power-ups for offense or defense. In addition to Crash Bandicoot, featured characters include Crunch, Coco, Dingodile, Neo Cortex, and more.

The wide-smiling, orange, marsupial hero unites with his greatest nemesis for Crash Twinsanity (2004), in which the two must work together against a common enemy. A new, mysterious, powerful villain is taking over their island home, so Crash Bandicoot and Dr. Neo Cortex reluctantly join forces to stop him. Players control Crash through most of the game but can use his unusual companion in a number of ways, to help solve in-game puzzles or even as a weapon; Crash can swing the mad scientist around by his ankles, or toss him toward an unreachable area or group of enemies.

Crash Tag Team Racing (2005) is the third racing game to star the perma-grinned bandicoot, and it puts a new spin on the genre standards of chaotic, combat karting. As in the GameCube's contemporary Mario Kart: Double Dash!, two players can team up in a single vehicle, so one can steer while the other handles weapons and defense. Unlike in Double Dash, however, the method by which two characters accomplish their team-up is part of the fast-paced gameplay. Any two racers can combine their karts and team up on-the-fly, just by crashing into one another and pressing a button.
Collect Wumpa fruit to earn extra lives and collect gems to unlock bonus content



Controls: Gamepad/Joystick
| | |
| --- | --- |
| Released | Jan 01, 2007 |
| Developer | |
| Publisher | Sierra |
| Players | 8 |
| Co-Op | No |
Game Rarity
Average Price (USD)
Rarity
Popularity
$37.64
988
478
Game Availability
Box Description
bandicoot
Bonanza!
fie ü(tituate
lection,
They're Wotting Togeåer,
They von't to Like rt!
Control Crash and Cortex as they squabble,
whack, smack, spin, throw and ride their way
through the funniest Crash' adventure ever/
Cotrbine and Conquer!
Clash 2 roadsters together into one
locked-and-loaded supercar! Enjoy crazy
multiplayer battles and wacky minigames,
then explore to unlock new cars and tracks!
Bandicoots and Bad GUYS ...
Start YOUR Engines!
Speed your to victory over 18 incredible raceways!
Dust your opponent with devastating weapons in
bumper-to-bumper multiplayer action for up to 4 racers'
www.crashbandicoot.com
3DlSCS
['.•lemorv Card PS?) - 99 D 191tai Conllül
analog Control
Players
Adaptor - 7-8
Vibration function Pressure Sensitive
'Crash Crag
Sierra trademarks Sierra in
cc'•ntnes OOZY. and traoenarkg Labora:ories Enldrtainment is registered trademark Of VivenC•
LIS. ariidiCtiO"S ot
on the NTSC U.'C See
•PS' .isterea trzclernav• idc The is a trademark
software Manu'aeured U s A SOFTWARE 'S WITH
2 rHENTscu,c oEslGuT10N. S. VDREIGN PATENTS
7279430
RANGE EVERYONE EVERYONE
Cartoon Vlolence
Crude Humor
RATING
ISBN: 0-7849-299B.x
0 20626 72734
you A EPILEPSY
OR CONSULT A oocTOR BEFORE USE.
J PATTERNS MAY TRIGGER SEIZURES WITH
NO PRIOR HISTORY. BEFORE USING ANO FOR MORE
DETAILS SEE INSTRUCTIONS PRODUCT.

- ReaderBot (does his best...)