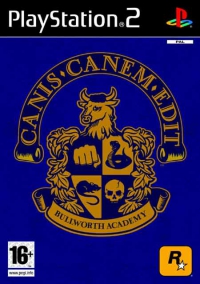 Bully, released in PAL regions as Canis Canem Edit, is an open world, action-adventure video game developed by Rockstar Vancouver and published by Rockstar Games. It was released on 17 October 2006 for the PlayStation 2. A remaster of the game, subtitled Scholarship Edition, was developed by Rockstar New England and released on 4 March 2008 for the Xbox 360 and Wii, and on 21 October 2008 for Microsoft Windows. Bully was re-released on PlayStation 4 available via digital download from PlayStation Network on March 22, 2016. Set within the fictional town of Bullworth, the story follows a student and his efforts to rise through the ranks of the school system. The open world design lets players freely roam Bullworth, which includes a number of towns.
The game is played from a third-person perspective and its world is navigated on-foot, skateboard or by bicycle. Players control James "Jimmy" Hopkins, a student who is involuntarily enrolled at Bullworth Academy. He discovers that the school is filled with bullies, and becomes determined to bring peace, ultimately becoming more respected among town groups. Jimmy is also expected to attend class, which is a main gameplay aspect. In Scholarship Edition, a two-player competitive multiplayer mode lets two players compete for the highest score in different classes.
At release, Bully received generally positive reviews, with praise directed at the game's narrative and characters. Prior to release, the game received controversy for its expected violence, and bisexual content. The original version of Bully sold over 1.5 million copies, and received multiple year-end accolades.
- Wikipedia
| | |
| --- | --- |
| Released | Nov 30, -0001 |
| Developer | |
| Publisher | |
| Players | 1 |
| Co-Op | No |