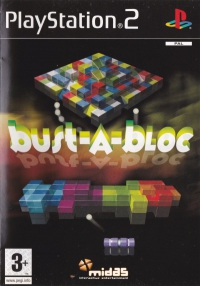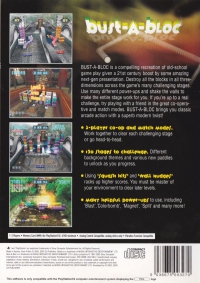 bun
BUST-A-BLOC is a compelling recreation of old-school
game play given a 21st century boost by some amazing
next-gen presentation. Destroy all the blocks in all threes
dimensions across the game's many challenging Stages,
Use many different power-ups and shake the walls to
make the entire stage work for you. If you're up to a real
challenge, try playing with a friend in the great co-opera-
tive and match modes. BUST-A-BLOC brings you classic
arcade action with a superb modern twist!
• CO-OP axe #0def.
Work together to clear each challenging stage
or go head-to-head.
• 150 ftaqeg to ck0LLeuqe. Different
background themes and various new paddles
to unlock as you progress.
• Using •jquajk kit" and kudqe$i
racks up higher scores. You must be master of
your environment to clear later levels.
• kNDfuL to use, including
'Blast','CoIorbomb', 'Magnet', 'Split' and many more!
-2 Players • "miry tard EM8' PlayStaCone:21 minimum • Control Comp-atlble analog socks • Vibration
• •maySWnn• are O' C.utm A1 Rivas
Mide in C ZOCQ. 03 Midas is ENTtRIAlNNENT LTD
MiDÃ¥.s
Compuler ONLY
access Of
this t" MIDAS 2002
03 PUBLISHER
5 036675 003270
This software is only with the PlayStation8J2 computer entertainmnt System displaying the logo
- ReaderBot (does his best...)
| | |
| --- | --- |
| Released | Nov 30, -0001 |
| Developer | midas |
| Publisher | |
| Players | 1 |
| Co-Op | No |