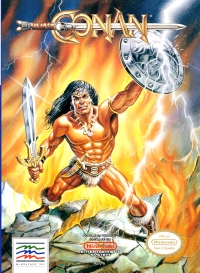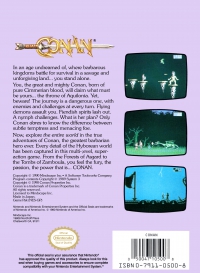 CONAN
0 50047 10500 8
ISBN 0-7911-osoo-g
In an age undreamed of, where barbarous
kingdoms battle for survival in a savage and
unforgiving land... you stand alone.
You, the great and mighty Conan, born of
pure Cimmerian blood, will claim what must
be yours... the throne of Aquilonia. Yet,
beware! The journey is a dangerous one, with
enemies and challenges at every turn. Flying
demons assault you. Fiendish spirits lash out.
A nymph challenges. What is her plan? Only
Conan dares to know the difference between
subtle temptress and menacing foe.
Now, explore the entire world in the true
adventures of Conan, the greatest barbarian
hero ever. Every detail of the Hyborean world
has been captured in this multi-;evel, super-
action game. From the Forests of Asgard to
the Tombs of Zamboula, you feel the fury, the
passion, the power that is... CONAN.
Copyright 0 1990 Mindscape Inc. • A Software Toolworks Company
Program contents Copyright 0 1989 System 3
Copyright 0 1990 Conan Properties Inc.
Conan is a trademark of Conan Properties Inc.
All rights reserved.
Licensed to Mindscape Inc.
Made in Japan.
Game Pak (INES-GP)
Nintendo and Nintendo Entertainment System and the Official Seals are trademarks
of Nintendo of America Inc. @ 1990 Nintendo of America Inc.
Mindscape Inc.
19808 Nordhoff Place
Chatsworth CA, 91311
Official
Seal of Quality
This official seal is your assurance that Nintendo@
has approved the quality of this product. Always look for this
seal when buying games and accessories to ensure complete
compatibility with your Nintendo Entertainment System.@
- ReaderBot (does his best...)
| | |
| --- | --- |
| Released | Feb 01, 1991 |
| Developer | |
| Publisher | Mindscape |
| Players | 1 |
| Co-Op | No |