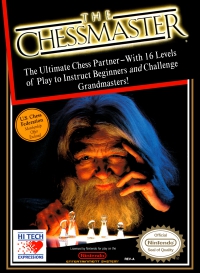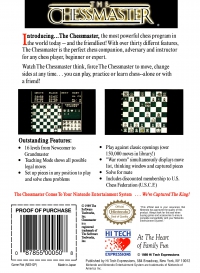 ntroducing...The
Chessmaster
, the most powerful chess program in
the world today -- and the friendliest! With over thirty differnt features,
The
Chessmaster
is the perfect chess companion, adversary and instructor
for any chess player, beginner or expert.
Watch The
Chessmaster
think, force The
Chessmaster
to move, change
sides at any time... you can play, practice or learn chess--alone or with
a friend!
ca—D6
A8—H8
BLACK
D 7—C7
ES—E7
BEST HINT
CAPTURED
PIECES
Play against classic openings (over
150,000 moves in library!)
"War room" simultaneously displays move
list, thinking window and captured pieces
Solve for mate
Includes discounted membership to U.S.
Chess Federation (U.S.C.F.)
Outstanding Features:
16 levels from Newcomer to
Grandmaster
Teaching Mode shows all possible
legal moves
Set up pieces in any position to play
and solve chess problems
. We've Captured The King!
'This official seal is your assurance that
Nintendo has approved the quality of this
product. Always look for this seal when
buying games and accessories to ensure
complete compatibility with your Nintendo
Entertainment System.
At The Heart
of Family Fun
0 1989 Hi Tech Expressions
The
Chessmaster
Comes To Your Nintendo Entertainment System
I PROOF OF PURCHASE
10 87855 00050 8
01989The
Software
Toolworks,
Inc.
Chessmaster
isa
registered
trademark of
The Software
Toolworks,
Inc.
Official
NinTendOC
Seal of Quality
HI TECH
EXPRESSIONS
Game Pak (NES-GP)
Made in Japan
Published by Hi Tech Expressions, 584 Broadway, New York, NY 10012
Nintendo and Nintendo Entertainment System are trademarks of Nintendo of
America Inc.
- ReaderBot (does his best...)
| | |
| --- | --- |
| Released | Jan 01, 1990 |
| Developer | |
| Publisher | Hi Tech Expressions |
| Players | 1 |
| Co-Op | No |