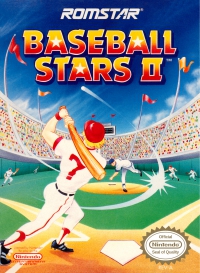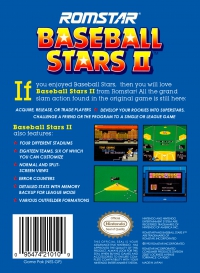 Nomsr»4N
srmns
you enjoyed Baseball Stars, then you will love
Baseball Stars 11 from Romstar! All the grand
slam action found in the original game is still here:
ACQUIRE, RELEASE, OR TRADE PLAYERS
DEVELOP YOUR ROOKIES INTO SUPERSTARS.
CHALLENGE A FRIEND OR THE PROGRAM TO A SINGLE OR LEAGUE GAME
Baseball Stars 11
also features:
FOUR DIFFERENT STADIUMS
EIGHTEEN TEAMS, SIX OF WHICH
YOU CAN CUSTOMIZE
NORMAL AND SPLIT-
SCREEN VIEWS
ERROR COUNTERS
DETAILED STATS WITH MEMORY
BACKUP FOR LEAGUE MODE
VARIOUS OUTFIELDER FORMATIONS
.14
TEAN COBRAS
SEGAL-
ns RELEASED!!
Official
Nintendo"
Seal of Quality
THIS OFFICIAL SEAL IS YOUR
ASSURANCE THAT NINTENDO HAS
APPROVED THE QUALITY OF THIS
PRODUCT. ALWAYS LOOK FOR THIS
SEAL WHEN BUYING GAMES AND
ACCESSORIES TO ENSURE COM-
PLETE COMPATIBILITY WITH YOUR
NINTENDO ENTERTAINMENT SYSTEM.
Oh
T E art
20
NINTENDO AND NINTENDO
ENTERTAINMENT SYSTEM ARE
REGISTERED TRADEMARKS OF
NINTENDO OF AMERICA INC.
ROMSTARSAND BASEBALL STARS
ARE TRADEMARKS OF
ROMSTAR, INCORPORATED
01992 ROMSTAR INCORPORATED
ROMSTAR INCORPORATED
CONSUMER PRODUCTS DIVISION
22857 LOCKNESS AVENUE
TORRANCE CA 90501
MADE IN JAPAN
0
95474 21010
Game Pak (NES-GP)
9
- ReaderBot (does his best...)
| | |
| --- | --- |
| Released | Jul 01, 1992 |
| Developer | |
| Publisher | Romstar |
| Players | 1 |
| Co-Op | No |