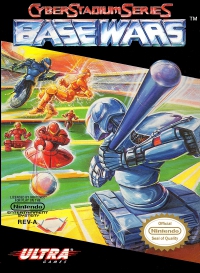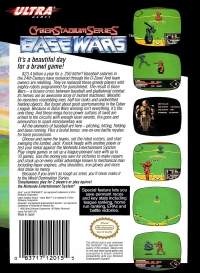 TOPI B
c o oee
2
ASO
It's a beautiful day
for a brawl game!
$23.4 billion a year for a .250 hitter? Baseball salaries in
the 24th Century have rocketed through the 0-Zone! And team
owners are rebelling. They've replaced these greedy players with
mighty robots programmed for punishment. The result is Base
Wars —a bizarre cross between baseball and gladiatorial combat.
Its heroes are an awesome array of mutant machines. Metallic
he-monsters resembling men, half-ton tanks and unidentified
fielding objects. But forget about good sportsmanship in the Cyber
League. Because in
Base Wars
winning isn't everything, it's the
only thing. And these mega horse power sultans of swat are
armed to the circuits with enough laser swords, fire guns and
ammunition to spark interplanetary wac
A1/ the elements of baseball are here—pitching, hitting, fielding
and base running. Plus a brutal bonus: one-on-one battle royales
for base possession.
Choose and name the teams, set the robot rosters, and start
swinging the lumber, Jack. Knock heads with another player or
test your metal against the Nintendo Entertainment System.
Play single games or set up a league pennant race with up to
10 games. Use the money you earn for victories to make repairs
and stock up on every unfair advantage known to mechanical man.
Including hyper engines, ultra shoulders, iron gloves and more.
And show no mercy
Because if you aren't as tough as steel, you'll never make it
to the World Domination Series.
Simultaneous play for 2 players or play against
NORMAL
JHONSON
NORXRE
304
423
NCY
1 OSOKC
POWER 1020HP.
S IKE.
BTN2 B
c o oee
BENNE-
HP SOO
FIRE
SOO
the Nintendo Entertainment System.
Ultra*' and ULTRA GAMES@ are registered trademarks of Ultra
Software Coworatjon.
Cyber Stadium Series —
Base Wars
7M is a trademark of Ultra
Software Corporation.
Nintendo• and Nintendo Entertamment Systems are regjstered
trademarks of Nintendo of America Inc
1990 Ultra Software Corporation. All Rights Reserved.
Game Pak (NES-GP)
Made In Japan
Special feature lets you
save pennant races
and key stats including
league ranking, home
run ranking, ERAs and
battle victories.
z Official
Nintendo
Seal of Quality
This official seal is your assurance
that Nintendos has approved the
quality of this product. Always look
for this seal when buying games and
accessories to ensure complete
compatibility with your Nintendo
Entertainment System.s
12015
5
83717
- ReaderBot (does his best...)
| | |
| --- | --- |
| Released | Jun 01, 1991 |
| Developer | |
| Publisher | Ultra Games |
| Players | 1 |
| Co-Op | No |