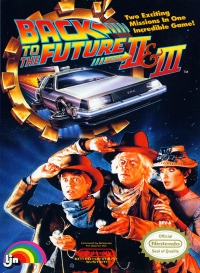 #05170
toocos•to nonco
Your hi-speed hoverboard
may be just what you need
to help repair the Time-
Space Continuum.
1
07006+12 0000440
Locate the controller, call
the time traveling sportscar,
and "iump" to the past,
present, and future!
Never time travel on an
empty stomach - - find bonus
puzzle rooms to load up on
iunkfood!
0000090
Welcome to the Wild
West: Gun-totin' cowboys,
savage Indians, deadly
rattlesnakes and more!
2 Action-Packed
Adventures in 1
Great Game!
Get ready for a wild
romp through time, Marty
McFly, 'cause you're
about to take off on a double mission to save
the past, present, and future! Better load up on
pizza and soda as you rocket to the year
2015 in Doc's supercharged time machine.
Hang onto your hi-speed hoverboard as you
teach Biff Tannen a thing or two about stealing
your Sports Almanac, and locate the special
objects he's hidden throughout time.
Then, if your flux capacitor isn't on the fritz,
it's off to the Wild West, where sharp shootin'
gunslingers want you out of town by sundown.
The fate of the world - - not to mention genera-
tions of McFly's - -e is in your hands...and
you're out of time!
LON Ltd., f Spring Street, Oyster Day, N.Y. f 1771, Distributed by Acclaim Distribution, Inc.
This offloa seal IS your assurance that Nintendo• nas approved the qual'ty of this oroduct Always look for thts seal when buyng games
ana accessones to ensure complete compatibility With your Nintendo Entertainment System•
Nintendo
Back To The Future Part 11 Ill 'e c 1989 and 1990 Unversal City Studios. Inc and
Amblin All tights reserved Nntendo• and Nintendo Entertainment System• are
trademarks of Nintendo of Amenca Inc. e 1990 LJN Ltd All tights reserved Garne
Pax (NES-GP) Made jn Japan
- ReaderBot (does his best...)
| | |
| --- | --- |
| Released | Sep 01, 1990 |
| Developer | |
| Publisher | LJN |
| Players | 1 |
| Co-Op | No |