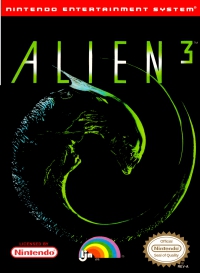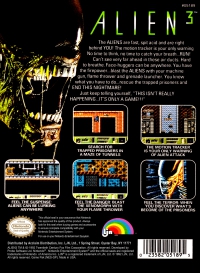 #05189
ALIEN 3
The ALIENS are fast, spit acid and are right
behind YOU! The motion tracker is your only warning
No time to think, no time to catch your breath...RUN!
Can't see very far ahead in these air ducts. Hard
to breathe. Face-huggers can be anywhere. You have
the firepower...blast the ALIENS with your machine
gun, flame thrower and grenade launcher. You know
what you have to do...rescue the trapped prisoners and
END THIS NIGHTMARE!
Just keep telling yourself, "THIS ISN'T REALLY
HAPPENING...IT'S ONLY A GAME!!
SEARCH FOR
TRAPPED PRISONERS IN
A MAZE OF TUNNELS
FEEL THE DANGER: BLAST
THE XENOMORPH WITH
YOUR FLAME THROWER
rung
THE MOTION TRACKER
IS YOUR ONLY WARNING
OF ALIEN ATTACK
FEEL THE TERROR: WHEN
YOU DISCOVER WHAT'S
BECOME OF THE PRISONERS
FEEL THE SUSPENSE:
ALIENS CAN BE LURKING
ANYWHERE
Official
Nintendo'
This official seal is your assurance that Nintendo
has apporved the quality of this product. Always
look for this seal when buying games and accessories
to ensure complete compatibility with your
Nintendo Entertainment System
Seal of Quality
•G) For use on your Nintendo Entertainment Sysytem.
LTD.
Distributed by Acclaim Distribution, Inc. LJN, Ltd., 1 Spring Street. Oyster Bay, NY 11771
ALIEN3 TM & 01992 Twentieth Century Fox Film Corporation. All rights reserved. Developed by
Probe Software Ltd. Nintendo@. Nintendo Entertainment System@ and the official seals are registered
trademarks of Nintendo of America Inc. LJN@ is a registered trademark of LJN, Ltd. 0 1992 LJN, Ltd.
All rights reserved. Game Pak (NES-GP). Made in USA.
- ReaderBot (does his best...)
| | |
| --- | --- |
| Released | Mar 01, 1993 |
| Developer | |
| Publisher | LJN |
| Players | 1 |
| Co-Op | No |