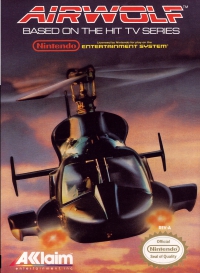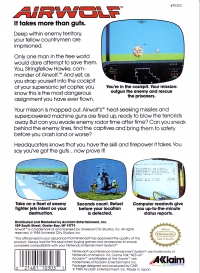 #10303
You're in the cockpit. Your mission:
outgun the enemy and rescue
the prisoners.
It takes more than guts.
Deep within enemy territory,
your fellow countrymen are
imprisoned.
Only one man in the free world
would dare attempt to save them.
You, Stringfellow Hawke, com-
mander of
Airwolf
.TM And yet, as
you strap yourself into the cockpit
of your supersonic jet copter, you
know this is the most dangerous
assignment you have ever flown.
Your mission is mapped out.
Airwolf
'sTM heat-seeking missiles and
superpowered machine guns are fired up, ready to blow the terrorists
away. But can you evade enemy radar time after time? Can you sneak
behind the enemy lines, find the captives and bring them to safety
before you crash land or worse?
Headquarters knows that you have the skill and firepower it takes. You
say you've got the guts... now prove it!
Take on a fleet of enemy
fighter jets intent on your
destruction.
Seconds count. Refuel
before your location
is detected.
Computer readouts give
you up-to-the-minute
status reports.
Official
Nintendo
Seal of Quality
Distributed and Marketed by Acclaim Entertainment, Inc.
189 South Street, Oyster Bay, NY "771
Airwolf
is a trademark of and licensed by Universal City Studios, Inc. All rights
reserved. @ 1984 Universal City Studios, Inc.
"This official seal is your assurance that Nintendo@ has approved the quality of this
product. Always look for this seal when buying games and accessories to ensure
complete compatibility with your Nintendo Entertainment System.@"
21481 10303
5
Nintendo@ and Nintendo Entertainment System@ are trademarks of
Nintendo of America Inc. Game Pak "NES-GP"
Acclaim'" and Masters of the Game'" are
trademarks of Acclaim Entertainment, Inc.
entertainment n C
Package designed and produced by CMR.
@ 1989 Acclaim Entertainment, Inc. Made in Japan.
- ReaderBot (does his best...)
| | |
| --- | --- |
| Released | Jun 01, 1989 |
| Developer | |
| Publisher | Acclaim Entertainment |
| Players | 1 |
| Co-Op | No |