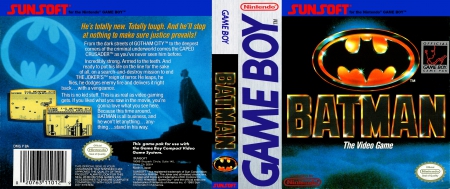 for the Nintendo@ GAME BOWM
He's totally new, Totally tough And he'll stop
at nothing to make sure justice prevails!
From the dark streets of GOTHAM CITY TM to the deepest
corners of the criminal underworld comes the CAPED
CRUSADERTM as you've never seen him before.
Incredibly strong. Armed to the teeth. And
ready to put his life on the line for the sake
of all, on a search-and-destroy mission to end
THE JOKER'STM reign of terror. He leaps, he
111 I
Nintendo@
IA MAN
suasan
for the Nintendo@ GAME BOWM
OFFICIAL
GAME BOY.
GAME PAK
Official
Nintendo
Seal of Quality
flies, he dodges enemy fire and delivers it right
back... with a vengeance.
This is no kid stuff. This is as real as video gaming
gets. If you liked what you saw in the movie, you're
gonna love what you see here.
WEAPON
Because this time around,
7370
BATMAN is all business, and
he won't let anything... any-
thing ... stand in his way.
SCORE
S YAGE
DMG P BA
The Video Game
Official
Nintendo
Seal Of Quality
THIS OFFICIAL SEAL IS YOUR
ASSURANCE THAT NINTENDO HAS
APPROVED THE QUALITY OF THIS
PRODUCT. ALWAYS LOOK FOR THIS
SEAL WHEN BUYING GAMES AND
ACCESSORIES TO ENSURE COMPLETE
COMPATIBILITY WITH YOUR GAME
BOY SYSTEM.
This game pak for use with
the Game Boy Compact Video
Game System.
SUNSOFT
18008 Skypark Circle, suite 140,
92614
Made in Japan
SUNSOFTEis.a registered trademark of Sun Co ration
of America.
Batman
, The Joker and all related characte s,
phrases and loges are trademarks of DC Comics Inc.
c 1990. Nintendo: Game Boy'" and the officia! seals are
trademarks of Nintendo of America Inc. C; 1990 Sun
Corporation of America.
SUNSOFT
- ReaderBot (does his best...)
| | |
| --- | --- |
| Released | Apr 13, 1990 |
| Developer | Sunsoft |
| Publisher | Sunsoft |
| Players | 1 |
| Co-Op | No |