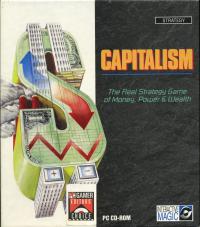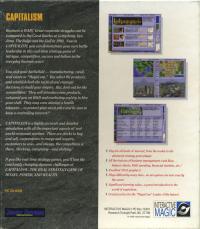 Capitalism is a business simulation video game first published in 1995 by Interactive Magic, developed by Enlight for the Macintosh and MS-DOS and designed by Trevor Chan. Other similar business simulation games include Industry Giant, Entrepreneur and The Corporate Machine. Capitalism may be the first successful business simulation game.
The aim of Capitalism is to become the most profitable business in the world while competing in several different markets against a number of different corporations. The player must run a business as the chief executive officer while preventing the business from going bankrupt or being bought out by a competitor.
A more advanced version was developed and released as Capitalism Plus on January 1, 1996, featuring world maps, more products and enhanced management capabilities which was published by Brøderbund. A sequel was released entitled Capitalism II in 2001. An expanded version of Capitalism II, called Capitalism Lab, was released December 14, 2012.
- Wikipedia
| | |
| --- | --- |
| Released | Nov 30, 1994 |
| Developer | Enlight |
| Publisher | Interactive Magic |
| Players | 0 |
| Co-Op | No |