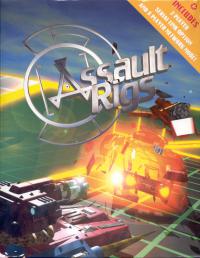 Assault Rigs is an action game developed and published by Psygnosis, released in 1996 for MS-DOS and PlayStation, and a year later for the Sega Saturn in Japan. The game takes place in the future, where real sport has been overtaken in favour of virtual sport, the most popular of which is Assault Rigs, a tank simulator set inside a 3D virtual environment.
The goal of the single player game is to collect all of the gems in a level, while destroying or avoiding enemies, ultimately reaching the exit. There are 42 Levels featuring jump ramps, elevators, skyways, trenches, movable blocks and push rods. There are also 20 weapon power-ups, viruses and Dolby Surround sound. The game has four themes of tanks/environment: VR,Past,Future and Present.
Assault Rigs also has the capability to utilize the PlayStation Link Cable, enabling two players to connect two PlayStations and play head-to-head on two televisions. This setup unlocks 15 additional levels that are only available for play using the cable.
The PC version has multi-player which can be played with either a serial link (two player) or a network (up to eight players).
- Wikipedia
| | |
| --- | --- |
| Released | Nov 30, 1995 |
| Developer | Psygnosis |
| Publisher | Psygnosis |
| Players | 0 |
| Co-Op | No |